About the founder and CEO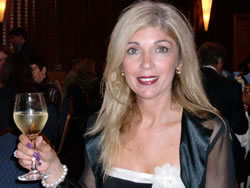 Mrs. Palace, has a fascinating family story that dates back to 15th century renaissance Europe, where her family members played an important role in the courts of Europe, in diplomacy and commerce. Smadar feels that her passion for exploring cultures and languages passed with the genes. She has been traveling from a young age and naturally turned her passion into her profession, working in tourism since 1990. She has been learning 5 languages and taking countless courses and programs to satisfy her love for knowledge. Her favorite thing to do before the internet era was to create itineraries for her clients. She would literally send them with a little guide to follow. "I realized that what created the best memories for me was mingling in the local life in the places I was visiting and that inspired me to launch Food N' Wine Vacations. This is the enriching experience I want to provide to my clients, one that will create memories for them."
Smadar is still the one who creates every program and gets excited when she finds a new experience to share with Food N' Wine friends.
From a young age, Smadar was a sous chef at her mom's kitchen, a spiced combination of Mediterranean and Moroccan cuisine, where she learned to use fresh ingredients and prepare everything from scratch. Her true passion is baking and her family surely loves that.
We hope to see you soon on one of our culinary experiences!