2 minute read


Fall in Italy is a unique time for food vacations. Mother nature sets a glorious backdrop of rich autumnal color, and "sagre", or festivals, abound! Every town has it's own celebration around a unique harvest or local delicacy and food vacations to Italy are a great way to experience the culture.

The Italian region of Umbria literally comes alive with food festivals in the Fall. As the harvest time draws to a close, many of the villages, large and small, are in a festive mood and with the grape and olive groves paused in production, it's time to celebrate.


The festivals we visit on food vacations to Italy are unique and individual as these quaint villages themselves. From the beautiful accommodations in Medieval Spoleto, we'll embark on a journey of discovery, touring classic towns such as Assisi, Norcia, Perugia, Montefalco, Spello and Todi. We'll take in a cooking lesson, taste the local flavor in an intimate way, and, of course, experience true Umbrian fun as we tour the sagre.


Truffle Festival

Truffles, a rare delicacy often reserved for the rich, are celebrated in October. For foodies, a taste of this uniquely-flavored and rare fungi is certainly on their "bucket list". Even those individuals who have no interest in tasting this delectable morsel will enjoy the festival. You can wander from stall to stall sampling local meats, cheeses, and other Umbrian delicacies.


Chestnut Festival

Surely, if Autumn in Italy had a flavor, it would be roasted chestnut. The streets vibrate with this delicious tree nut. The aroma of roasting chestnut tickles your nose and awakens your senses the minute you disembark to tour the festival. Your mouth waters as you realize you'll sample various dishes. From sweet to savor, food stands beckon you to try and buy on your food vacations to Italy.



Chocolate Festival



The highlight of all food vacations to Italy in the Fall. Chocolate, in all it's decadent deliciousness is displayed in every form imaginable. Display tables groan under samples of chocolate available to taste and purchase, from sweet to savory-all temptingly calling to your senses.
Sample such too-good-to-not-be-sinful items as truffles infused with everything from hazelnuts to chillies, languidly luscious hot chocolate, from deep and dense to lightly sweet, richly infused baked goods, and chocolate in it's most basic form.
Purchase treats from some of the world's most recognized chocolatiers. Names such as Lindt, Perugina, Toblerone, Milka, and Motta are easily recognized, but smaller, lesser known artisans of this lusty confection are represented as well.



Fall food vacations to Italy are like no other. though sampling special treats is what these sagre are all about, your palate isn't all that will be delighted on these unique food vacations. Many local artisans and craftsmen are present and ready to provide you with a unique souvenir of this most unique of vacations to Italy. The warm hospitality of your hosts, and the one-of-a-kind experience of staying in a private estate, combined with the celebratory atmosphere of Umbrian Autumn is sure to provide a lifetime of memories.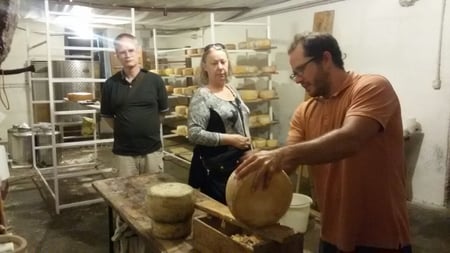 Want to see a sample itinerary:
Fall for food vacations to Italy