2 minute read
Remember how your grandmother's special once-a-year Christmas cookies or holiday treats made you feel as a child? How about the aroma of smoky, sweet and succulent ham roasting for Easter dinner? Or the promise of those crispy and tender latke that await you as part of the Hanukkah celebration? Just as all families have special dishes enjoyed on certain holidays the Tuscans are no exception.
If you've been with us on our Secrets of Tuscany tour then good chance that you have tasted this delicious dish. For those who have not yet joined us on our visits let this be your incentive!
What is Timballo?
In Tuscany the timballo is made the traditional way, with eggplant. The word timballo is derived from the Italian word for drum, tamburo. And a timballo is a drum of pasta and fillings wrapped in layers of delicious eggplant. No you cannot play your timballo like a drum. Listen to your nonna!
Eggplant timbale or Timballo di Melanzane is made with pasta and a meat sauce made with peas. The pasta and sauce are wrapped in thin slices of eggplant which is then baked together in a domed pan, bowl or springform cake pan.
Of course each region and each family will have their own variations. Some include small meatballs in the sauce, some use ziti, some rigatoni and others use various other shapes of pasta. While you can include certain things to mark the timballo as "your own" there is a specific traditional recipe you'll want to follow before you get creative!
Make the Magic of Timballo Yourself
Timballo is not a difficult dish to make. However, it does take some time which is likely why the dish is reserved as part of a celebration. First you make your sauce and let it simmer to perfection, then you must fry or grill your eggplant slices, cook your pasta, assemble the timballo and then let the magic of your ancestors work to bring forth a luscious, beautiful and impressive creation worthy of a celebration.
We all recognize any holiday or celebration is usually a very busy time. Before you embark on your timballo-making here are some tips to help you lovingly create the authentic taste of Tuscany.
Make your sauce, or ragú (not the brand; the Italian meat sauce!) ahead of time. We all know a good meat sauce tastes even better the next day. Plus this cuts down on prep time.
If you have time the day before you make your timballo prep your eggplant. Slice and salt it then layer between paper towels in a lidded container and store in the fridge for the next day. Fry or grill your eggplant the day you assemble your timballo.
Prepare extra eggplant in case the recommended amount isn't enough to provide coverage.
If using ricotta, use the best quality you can find. This dish is that special!
Here we offer a delightful and easy-to-make recipe for you to enjoy. Let us know how how it comes out.
https://www.kitchenstories.com/en/recipes/timballo-italian-eggplant-pasta-bake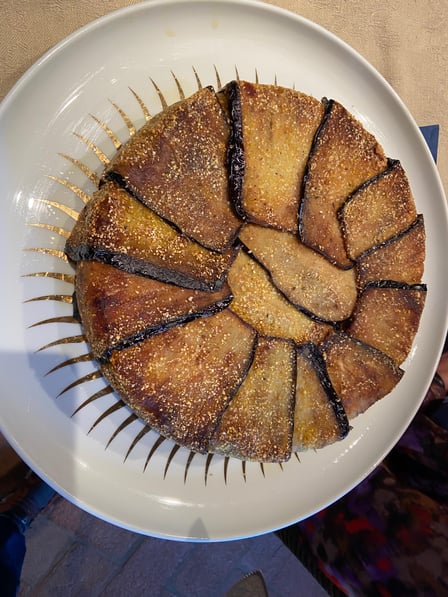 Timballo eggplant pasta bake