2 minute read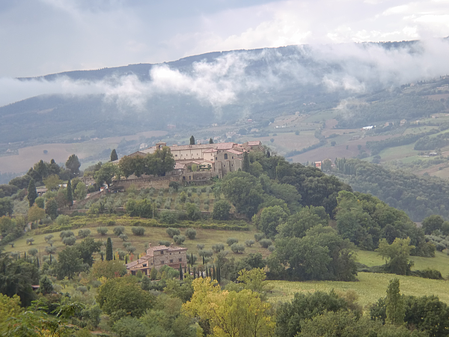 Umbria caught me by surprise. I have been to many places and traveled through different regions in Italy, yet I was not ready for the stunning beauty of Umbria. For some odd reason, Umbria does not get the same PR as its neighbor, Tuscany. Umbria is the shy, beautiful sister, sitting quietly, waiting to be discovered, waiting to be fallen in love with.
I was driving from Tuscany to Umbria as part of my job. What job? I am a tour designer specialized in finding interesting places, activities, people, Food and Wine, in order to create itineraries for travelers who look for one of a kind experience.
As I was driving on the main road from Tuscany to Umbria, thinking, probably Umbria will be more or like Tuscany, same villages. Not much of a difference. But then the scenery starts changing and you start to see from both sides of the road green mountains. And you keep driving and you see more of these green mountains with forested slopes and you start thinking that you arrived to another country and you get the feeling that this is not Tuscany anymore. No rolling hills and winding roads but beautiful forested slopes.
And all of a sudden Assisi rises above, high up at the top with its powerful architecture.
More about Assisi in the next blog post: Magical Towns of umbria
One of the things you will discover in Umbria is that most villages you visit go way back before the medieval ages, they are strategically located very high up, which always a striking view from the road, a presence, has surrounded by the lavish green mountains and they are beautifully preserved. You will mostly see Italians, locals, which will make you feel part of the local life. You will see them shopping for everyday products, standing in line in their street bakery to buy home favorite biscuits or local cake, or going to the check if there is fresh ricotta cheese from the shepherds, or special jam from a local convent that the nuns make.
One of the things I realized very quickly that Umbria is very easy to navigate. Unlike Tuscany, that sometime gets you carsick from all the winding hills and never ending tiny hill roads, Umbria has good major roads and you don't have to spend too much time driving from one place to another.
Umbria is big on Food. The cuisine is known for being fresh and seasonal, simple and delicious. Umbria is famous for truffles, grains and the best cured meats in Italy.
Read more about the Food and wine in Umbria in next blog post.
There are qualities to Umbria that sets it apart: Old traditions and adventure, gastronomy and mysticism, magical towns and genuine people all surrounded by majestic landscape.
i invite you to fall in love with Umbria!
Want to see a sample itinerary in Umbria: Culinary Paradise