4 minute read
---

An ancient kingdom of hilltop castles, walled villages, and fairytale scenery, Portugal is still one of the best kept secrets in Europe. Once you discover this magnificent country you will wonder how it has remained so quietly unexplored by even the most experienced traveler. A Portugal vacation is a step into history, an adventure for today, and an experience you'll cherish. Yesterday and today blend seamlessly to offer you the trip of a lifetime.
Discovering Portugal has never been easier. All of her charm and beauty, culture and magic are ready to dazzle and invite you. Medieval castles and palaces, unique art and architecture, superb wines and outstanding foods, her colorful people, rich history, cafes and culture await you in this magnificent country on the Iberian Peninsula.
Vast and Varied Geography
Lisbon, Portugal's capital, and largest city, has long been known as Rainha do Mar, or Queen of the Sea. It's easy to recognize her royal standing as you gaze out upon the Atlantic from one of Lisbon's hilly perches and see the waves draw their white cat before crashing to the shore. Somewhat warm summer days are relieved by the ocean breeze.
Portugal's southern sandy beaches are a tourist haven, no matter what time of year. And along the northern shoreline you'll find a surfers paradise. Sleepy fishing villages dot the coast and transport you to a simpler time, the fishermen auctioning off their catch of the day and boats bobbing languidly in the harbor.
In the northwest corner of the country you'll find the terraced vineyards of Douro Valley, known for producing some very popular, and outstanding, wines. Follow the Douro River toward the Atlantic and you'll come upon the second largest city in Portugal, Porto. For all of the cosmopolitan attractions available to you in Porto, the vibe is decidedly laid-back.
Medieval Sorthela is made up of granite homes built in amongst giant boulders, following the rocky terrain of the area. The Alentejo region offers pastures fed by marshlands, endless waves of wheat fields, and untamed coastal beauty. Cork oaks and olive trees dot the sun drenched land, as they have for centuries.
A Colorful History
From her large cities, like Lisbon and Porto, to small villages and towns not even on the map, Portugal preserves her history with reverence and respect. Nearly every stop you make in your travel to Portugal has some testimony to her medieval past, seafaring culture, and the many religious influences that left their mark on this colorful country.
Historical sites, magnificent castles, and walled cities can be discovered all over Portugal. Narrow streets and alley paths wend their way to celebrated landmarks of Portugal's heritage, as well as less obvious remnants of days gone by. Long ago, Muslim culture dominated the region, but as the Moors were pushed out of the Iberian Peninsula in the 9th century, their influence was replaced by Christians. Many of her mosques were converted to Christian churches so little historical Muslim evidence remains, but the Moorish influence is still present in other ways.
When the Catholic church expelled all Jews from Spain in the late 15th century, Portugal became home to many Jewish communities. There are several Jewish cultural heritage sites throughout the country, the most impressive being the old Jewish Quarter in Belmonte. Your Portugal vacation will enrich your life and expand your knowledge of historical events.
Dining in Portugal
A Portugal destination vacation is a foodie's delight. From the traditional to the eclectic-nouveau, Portuguese food is like none other. Her proximity to the sea provides the freshest of seafood, produce is enjoyed in season from nearby farms and orchards, and meats, both cured and fresh, are prepared in flavorful and unique ways, with pork being the staple.
The Portuguese commonly feast on five- and six-course meals, especially in the cooler northern regions. Cheese, typically a soft white variety, is served with the fruit course. Usually made from sheep's milk, the cheeses are quite delicious. Portuguese soups and stews are also very popular on a traditional menu. In your travel to Portugal, you must enjoy a traditional Portuguese meal.
Olive oil from Portugal is a high quality product that's becoming a popular export. Enjoy the fruity and rich flavor drizzled on warm bread, fresh from a stone oven. Sweets and pastries are often enjoyed by the Portuguese people. Luscious custards, tender, flaky tarts, marzipan, cookies, cakes and ice cream are ever-present throughout Portugal.
You'll find cultural influences in dining depend on the region. In the north, for instance, meaty, robust meals are common. In the sunny south of Portugal, local fare has a definitive Mediterranean influence. One single dish is enjoyed throughout Portugal. Cozido is a boiled dinner, made with beef, pork, or chicken, and always includes cabbage, carrots, potatoes, turnips and some kind of sausage. Depending on the region, you may find chickpeas and lamb, more root vegetables, or even pumpkin.
Wines of Portugal
As you might imagine, given the vast array of agricultural climates, Portugal produces some interesting wines. The most famous, of course, being the Port wine variety. Another popular wine from Portugal is the Vinho Verde, a light crispy white that's quite easy on the palate. No Portugal vacation would be complete without a sampling of the fantastic wines produced here.
The Douro river region produces many fine dessert wines, including the aforementioned Port, but the dry wines from this region-reds, whites, and rosés-are emerging for the world to take notice. The reds are full-bodied and robust, while the white wines are reminiscent of a white burgundy.
Other wines to try are Castelao wines, similar to Italy's Barbera, Tinta Roriz from tiny Colares, which will remind you of your favorite Cabernet Sauvignon, with hints of clove, cedar and blackberry. Wines from Alentejo include Herdade do Esporao, both red and white varieties, which is fast becoming popular outside of the region. Fortified wines, such as Port and Madeira, are still the leading wines in this prolific wine-producing country.
Travel to Portugal
Portugal destination vacations are life-changing. Nowhere else in the world will you find such diversity. From her breathtaking landscapes, rich history, delectable foods, outstanding wines, and warm, and colorful people, Portugal vacations offer so much more than you'd expect.
From the sun-baked terrain of the Alentejo region, to the lush and verdant hills surrounding Sintra, come discover beautiful, vibrant Portugal. A Portugal vacation is truly a traveler's dream and a dreamer's ideal destination. Discover the most authentic and colorful places to visit in Portugal.
If Portugal is on your bucket list then check the Heart of Portugal itinerary.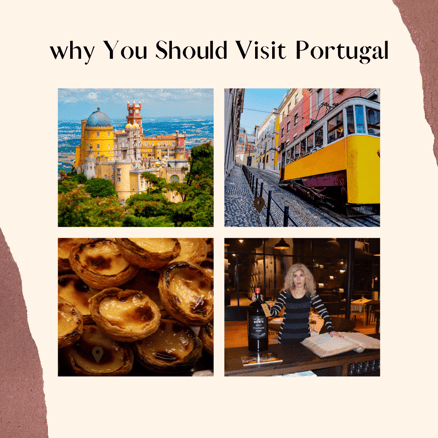 ---